My oc is
Jake
, Jake Smith, but  he prefers Jake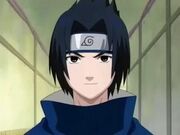 , he's a ninja in training, has 3 brothers and a sister. He knows how to turn himself into a 16 year old to 2 year old (uses the 2 year thing so he can get stuff from people), And has a talking wolf named Yoshi (best friend since his mother died). He helps out anytime he can.
Appearance:
black hair
blue forehead ninja protector
blue short sleeved  shirt
a sword on his back
a curse mark.
special powers.
sharigan
lightning spear
meygeko sharigan
chidori