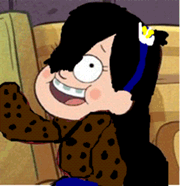 Angel is the younger sister of Tambry. Her last name is Scott, and she has a dog named Sarah.
Angel has the ability to shape-shift into a Saber-Toothed-Tiger, when she found a special silver-Wild Cat necklace. now she can shape-shift whenever she wants to.
.Appearence:Edit
Angel wears a spotted shirt with a gray shirt under, Fuzzy brown uggs, a flower headband and ripped jeans.